The History of Provender House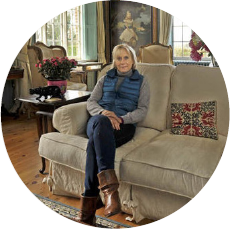 Provender's history is best understood by getting tactile and exploring its maze-like halls yourself. For now, though, here's a little taster…
Provender dates back to the 13th century and was named after its first owner, Sir John de Provender. Sir John had become rich in the service of King Henry III, from whom he received a pension of one penny a day – a princely sum for the times.
In the 14th century the de Viennes – wealthy local landowners – bought Provender and added a private wing, including a magnificent vaulted 'solar' with beautiful carved crown posts. This, recently restored under the direction of Ptolomy Dean and English heritage, is now called The Crown Post Room and together with the dining room has formed the core of the house since the 13th century.
Over the following six centuries, Provender's architecture reflected England's history on a human scale. Adventurers, explorers, heiresses and princesses have lived here, each re-fashioning the house or adding wings to make it their own. It was sold to James Huguesson, 'merchant adventurer', in 1633, and remained in his family for nearly three hundred years.
The development of the 18th century wing was carried out by Sir William Huguesson who died in 1779, leaving his house to his two daughters, Dorothy and Mary. Dorothy married the naturalist Joseph Banks, who planted hickory and chestnut trees and 'Banksia' roses at Provender. They died without heirs and the house was inherited by Mary Huguesson's son, Edward Knatchbull-Huguesson, 9th Baronet and first Lord Brabourne.
It's possible that Jane Austen would have visited Provender from her brother's home nearby in Godmersham – potentially checking out Provender's Edward Knatchbull-Huguesson as a potential husband for her favourite niece, Fanny Knight. Fanny did indeed marry Edward, and lived at Provender despite fretting that its 30 rooms would be inadequate for her seven family members and twelve servants. Her son, Lord Brabourne, edited the first edition of Jane Austen's letters, having found them, along with an original copy of 'Lady Susan' in Jane's hand-writing, 'in a box at Provender.'
Provender is now the home of Princess Olga Romanoff, the daughter of Prince Andrew Romanoff, the eldest nephew of the Tsar Nicholas II of Russia. The Knatchbull-Huguessons rented the house to Princess Olga's maternal great-grandmother in 1890, and sold it at auction in 1912 to her Finnish grandmother Sylvia McDougall, born Borgström in Helsinki. During the Second World War, Provender was requisitioned. It was then returned after the war to Sylvia's daughter Nadine who in 1942 had married Prince Andrew Romanoff.
When Princess Andrew died in 2000, the house was almost derelict, but a programme of careful restoration has revealed a wealth of historical and architectural detail. This makes Provender a fascinating record of English life over seven centuries.
A Note On Provender's Restoration
Thanks to the generous support of English Heritage and Swale Borough Council, Provender has and is slowly and carefully being restored with further works ongoing. It is also important to note that conservation architect Ptolemy Dean was instrumental in helping to motivate many parties into once again bringing Provender back into the public eye. Some of Ptolomy's sketches are shown on this page with updated photographs for you to enjoy.
The old kitchen garden has been turfed to make a stunning walled garden for events.